Die offizielle CD zum 5. Jubiläum des "größten Club der Welt" kommt am 21. April in den Handel!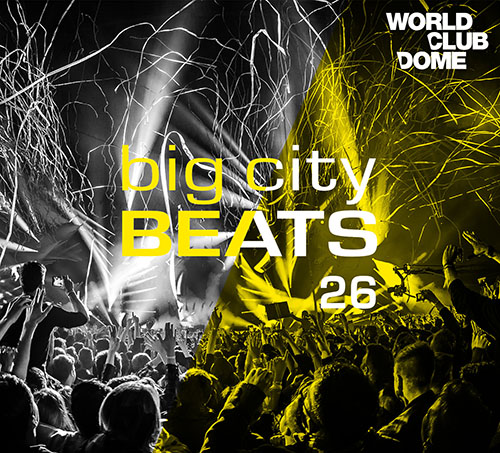 5 Jahre BigCityBeats World Club Dome! Am 02., 03. und 04. Juni 2017 entsteht inmitten der Weltstadt Frankfurt zum fünften Mal ein gigantisches Dancefloor-Areal mit über 700.000m2 Fläche. Dann verwandeln die BigCityBeats die Commerzbank-Arena wieder für ein Wochenende in den "größten Club der Welt" mit dem wohl spektakulärstem Line Up, dass ein "Club" jemals an einem Wochenende vereinen konnte.
Mit Martin Garrix, Deadmau5, Hardwell, Deichkind, Afrojack, Dimitri Vegas & Like Mike, Robin Schulz, Zedd, Steve Aoki, Marshmello, Solomun, Sven Väth und vielen mehr feiern die größten Stars der elektronischen Musikszene mit zehntausenden begeisterten Fans ein gigantisches 3-Tagesfestival. Die Besucher erwarten mehr als 200 DJs auf über 20 Bühnen, darunter die nagelneue Forrest Area im Clubwald, die WCD Pool Sessions im Stadion Freibad, die neue Skyline Stage, die Q-Dance Open Air Bühne, ICE Club Trains, Helicopter Shuttles, eigene BigCityBeats Hotels, Camping und vieles mehr!
Passend zu diesem Ereignis veröffentlichen BigCityBeats in Zusammenarbeit mit dem langjährigen Labelpartner Kontor Records am 21. April die neue BigCityBeats Vol. 26 - WORLD CLUB DOME Edition. Die aufwendig gestaltete CD-Box wird der Extravaganz des großen Events in nichts nachstehen und die geballte Energie und Leidenschaft des "größten Clubs der Welt" auf 3 CDs komprimieren. Mit exklusiven DJ Mixen sorgen die angesagten DJs Le Shuuk, Jerome und Supermans Feinde für das unbeschreibliche
BigCityBeats Wochenend-Feeling. Mit dabei Tracks und Chartbreaker von The Chainsmokers, DJ Snake feat. Justin Bieber, Robin Schulz & David Guetta, Martin Garrix, Hardwell, Dimitri Vegas & Like Mike und vielen mehr!
3 CDs. 60 Tracks. 4 Stunden BigCityBeats in the Mix.
Mehr Wochenende kann man einfach nicht fühlen!
BigCityBeats ist der Inbegriff für eine perfekte Partynacht. Unbeschreibliche Events, das einzigartige Radio Format und chartstürmende Compilations machen es zu Deutschlands wohl größtem Radio Live Network für Clubmusik.
Minimix:
Tracklist:
CD1 mixed by LE SHUUK
BIGCITYBEATS ARENA
INTRO - TAKE OFF VOL. 26
LE SHUUK - HEARTBEAT
HARDWELL & QUINTINO - BALDADIG
KIIDA - FORK (AFROJACK EDIT)
THE CHAINSMOKERS FEAT. XYLØ - SETTING FIRES (BLASTERJAXX REMIX)
WOLFPACK & BOOSTEDKIDZ - LOKNEZ
SEBJAK & WILL K - SMOKE
BROOKLYN BOUNCE - LIKE A RUNAWAY (LE SHUUK REMIX)
BROHUG - GIGGLE JUICE
SIKDOPE - OLD SCHOOL
UMMET OZCAN FEAT. AMBUSH - BOMBJACK
LEKTRIQUE - SHRED
SLANDER & YOOKIE FEAT. JINZO - AFTER ALL (HABSTRAKT REMIX)
W&W - WHATCHA NEED
LNY TNZ FEAT. DAVE REVAN - HIT 'EM HARD
DIMITRI VEGAS & LIKE MIKE VS DIPLO - HEY BABY (FEAT. DEB'S DAUGHTER) (STEVE AOKI REMIX)
DON DIABLO - SWITCH
DUBVISION - GEHT'S NOCH
ARSTON - RAGE
DIPLO & AUTOEROTIQUE - WAIST TIME
CD2 mixed by JEROME
BIGCITYBEATS RADIO
LIKA MORGAN - FEEL THE SAME (EDX DUBAI SKYLINE REMIX)
SHOWTEK VS TECHNOBOY & TUNEBOY - MELLOW (CALVO REMIX)
PLASTIK FUNK FEAT. KATE ROSS - SUNRISE
EDX - DHARMA
CALIPPO - ALIVE
DER HOUSEKASPER - YOU & I
SONIC ONE & KONIH - BASTED (BOUNCE INC. REMIX)
MAXRIVEN - RHYTHM IS A DANCER
NEPTUNICA FEAT. MATT DEFREITAS - ALIVE
NALIN & KANE - BEACHBALL (SEBASTIEN REMIX)
NORA EN PURE - MAKE ME LOVE YOU
TOM WAX & STROBE - BRING SALLY UP
MICHAEL WOODS - LEGATO
SEM VOX - WAITING FOR YOU (DLDK AMSTERDAM 2017 ANTHEM)
DAVE202 - KIMURA
STEPHEN OAKS & MICHAEL SEMBELLO FEAT. SPYZR - MANIAC
ATB & ANDREW RAYEL - CONNECTED
JEROME FEAT. MICHELLE HORD - SHOULD HAVE KNOWN BETTER
ARMIN VAN BUUREN & GARIBAY FEAT. OLAF BLACKWOOD - I NEED YOU
RATTY - SUNRISE (INDECENT NOISE'S DREAMSTATE REMIX)
CD3 mixed by CLAREMONT
BIGCITYBEATS CLUB
CLAREMONT - YOUR EYES
RYAN BLYTH X AFTER 6 FEAT. MALISHA BLEAU - SHOW ME
BASTILLE - BLAME (CLAPTONE MIX)
LOST FREQUENCIES - WHAT IS LOVE (2016) (MIKE MAGO REMIX)
BOUT - A BETTER SOUL
DROPGUN - NOBODY
ROBIN SCHULZ & DAVID GUETTA & CHEAT CODES - SHED A LIGHT
THE TRIXX, CHRISTY MILLION & STEVEN MAAR - WORKING HARD
BOB SINCLAR - STAND UP
BARKLEY - ONLY U
JACK WINS FEAT. FRANCCI RICHARD - I USED TO LOVE YOU
MIKE MAGO - WASTED SO MUCH OF MY LIFE
MARTIN GARRIX & BEBE REXHA - IN THE NAME OF LOVE (THE HIM REMIX)
NERVO & ASKERY FEAT. BRIELLE VON HUGEL - ALONE (MESTO REMIX)
DJ SNAKE & TIËSTO FEAT. JUSTIN BIEBER - LET ME LOVE YOU (TIËSTO'S AFTR:HRS MIX)
SUPERMANS FEINDE - MISS MY LOVE
HI-LO & SANDER VAN DOORN - WTF
FUNKERMAN & COOPERATED SOULS - WORK YOUR BODY
FOX STEVENSON & MESTO - CHATTERBOX
MK FEAT. A*M*E - MY LOVE 4 U (CAMELPHAT REMIX